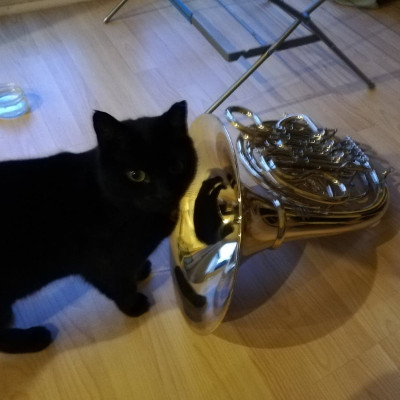 Misc.
Mahler 2 concert, in McEwan hall, Edinburgh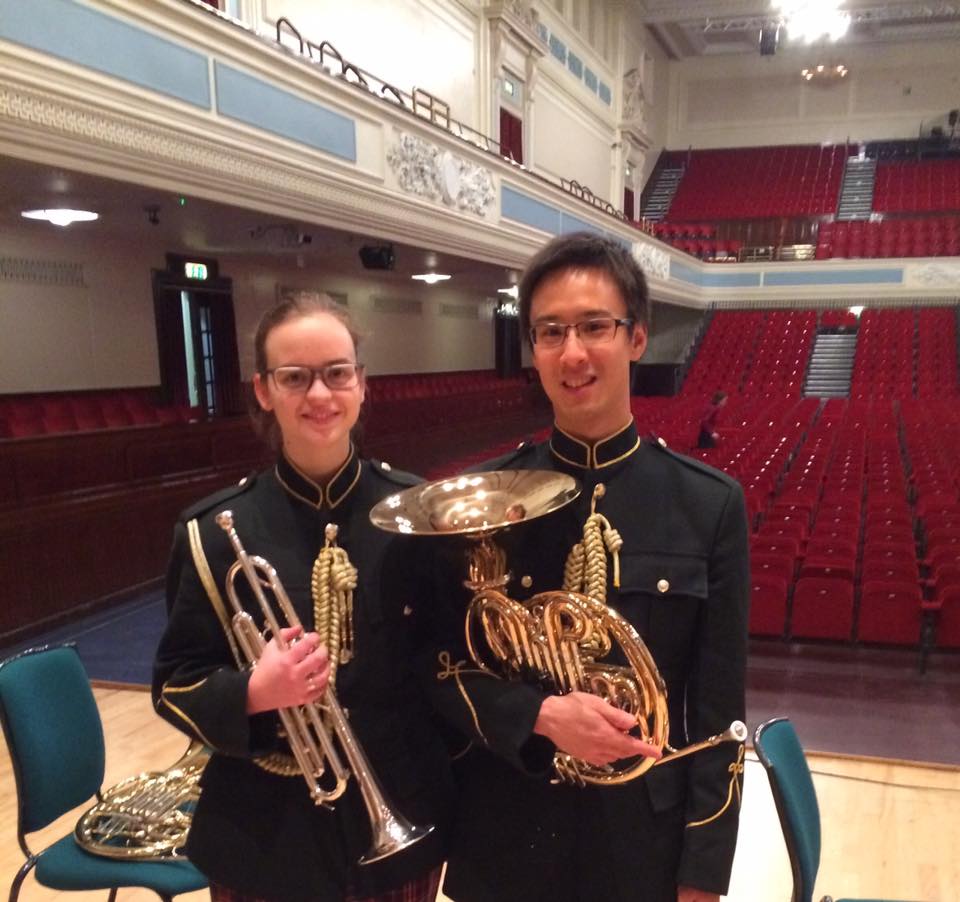 Remembrance concert at Caird Hall, Perth
One of the main things I do is music performance and I have dabbled with various instruments, and infrequently conducting. I primarily play the (French) horn now in large groups and gradually taking up the flute (the latter is a little more kind on the body). On horn I took lessons briefly with Bob Ashworth (Leeds) and Graeme Hodge (Edinburgh).
Being a bit of an equipment geek and for various practical/musical reasons I have played and owned a variety of horns (in order: Gears4Music double; Holton 179; Paxman 33; Conn 10D; Conn 8DRS; Alexander 103). Some of these are displayed below. The two Conns I got from Tony Halstead who also subsequently sold it on for me. I currently play an detachable bell Alexander gold brass 103 with a Schmid 5 mouthpiece.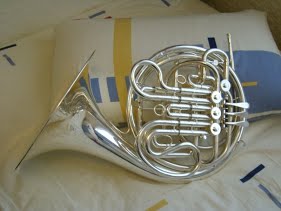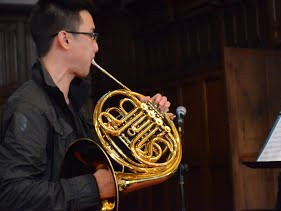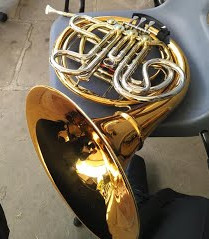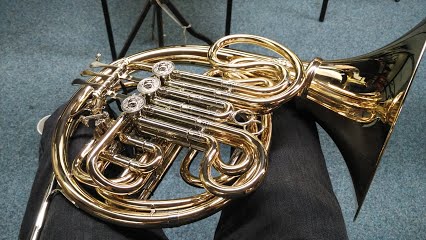 ---
List of ensembles
Ensembles I have played or deputised for, in (pseudo-)chronological order:
Oxford Studio Orchestra (horn)
Abingdon and District Music Society (horn)
Ensemble Reis (horn)
St Giles Orchestra, Oxford (horn)
Turl Street Orchestra, Oxford (horn)
Hertford College Orchestra, Oxford (horn)
Radcliffe Orchestra, Oxford (horn)
Edinburgh University Symphony Orchestra (horn)
Leeds University Chamber Orchestra (horn)
Edinburgh University Sinfonia (horn)
Edinburgh University Brass Band (percussion)
Durham University Concert Band (tenor sax, conductor, horn)
Lothian Festival Orchestra (horn)
Edinburgh University Savoy Opera Group (horn)
Central Band of the Royal British Legion Scotland (horn)
Dunedin Concert Band (horn)
Edinburgh University Musical Medics (horn, chorus)
Edinburgh University Wind Band (horn)
Edinburgh Concert Band (horn, conductor)
Leeds Youth Opera (horn)
School of Music Philharmonic, University of Leeds (horn)
Opera society, University of Leeds (horn, chorus, musical director)
Leeds University Symphony Orchestra (horn)
Leeds University Symphonic Wind Orchestra (horn)
Leeds University Sinfonia (horn, conductor)
Leeds University Concert Band (horn, percussion)
Leeds Symphony Orchestra (horn)
Northern Wagner Orchestra (horn)
Halifax Symphony Orchestra (horn)
Cobweb Orchestra (horn)
Leeds College of Music Symphony Orchestra (horn)
Hatfield College Music Society (horn)
Durham University Music Society orchestra (horn)
Durham Sinfonietta (horn)
Durham University Palatinate Orchestra (horn)
Bede Wind Philharmonic (horn)
Durham University Hill Orchestra (horn, percussion)
Opera, musicals, film and chorus works
Beethoven, Missa Solemnis, 4th horn (Jun 18)
Bizet, Carmen, 3rd horn (Jul 13, four nights)
Howard Blake, The Snowman with screening of the film, 2nd horn (Dec 16, three showings)
Lili Boulanger, Psaume 24, 2nd horn (Apr 17)
Lili Boulanger, Psaume 129, 2nd horn (Apr 17)
Gershwin, Crazy for You, 2nd horn (Mar 11, four nights), 1st horn (Jun 07)
Gilbert & Sullivan, Iolanthe, chorus bass (May 11, four nights)
Gilbert & Sullivan, Pirates of Penzance, horn (Mar 16, reduced score, six performances), chorus bass (Jun 12, 72 hour production), 1st horn (May 10, two nights)
Gilbert & Sullivan, The Mikado, musical director (May 12, four nights)
Haydn, Missa in Augustiis (a.k.a. the Nelson mass), 1st horn (Nov 15)
Lampe, The Dragon of Wantley, 2nd horn (Apr 13, four nights)
Frederick Loewe, My Fair Lady, 1st horn (Jun 09)
Mendelssohn, Elijah, 1st horn (Mar 17)
Mozart, Don Giovanni, 2nd horn (Feb 12, four nights)
Mozart, Requiem in d, chorus bass (Mar 08)
Helena Munktell, Isjungfrun, 2nd horn (Apr 17)
Offenbach, La Belle Helene, 1st horn (Feb 11, one night)
Salieri, Les Danaides, 2nd horn (Mar 11, two nights)
Stephen Sondheim, Sweeney Todd, the Demon Barber of Fleet Street, horn (Feb 12, three nights)
R. Strauss, Der Rosenkavalier, bumper horn (Sep 12)
Verdi, Aida, 1st horn (Jun 10, pocket version)
Wagner, Tannhauser, Bruch, 2nd horn (Sep 11)
Wagner, Tristan and Isolde, 4th horn (Sep 10)
Andrew Lloyd-Webber, Evita, horn (Nov 12, two nights)
Orchestral works
John Adams, Short Ride In a Fast Machine, 2nd horn (Mar 11)
Beethoven, Coriolan Overture, 2nd horn (Nov 17, Dec 10)
Beethoven, Egmont Overture, 1st horn (Dec 08)
Beethoven, Leonore Overture No.3, 1st horn (Dec 08)
Beethoven, Symphony No.1 in C, 1st horn (Mar 11)
Beethoven, Symphony No.5 in c, 1st horn (May 17), 2nd horn (May 16)
Beethoven, Symphony No.7 in A, 2nd horn (Nov 08)
Beethoven, Symphony No.8 in F, 1st horn (swapped out 3rd movt, May 18)
Beethoven, Symphony No.9 "Choral", chorus bass (Jun 09)
Berg, Fragments from Wozzeck, 4th horn (Sept 09)
Berlioz, Symphony Fantastique, timpani (Aug 12), 3rd horn (May 09)
Bizet, Carmen suite, 1st horn (Mar 16), 2nd horn (Mar 15), conductor (Nov 11)
Bizet, L'Arlesienne suite, 3rd horn (Dec 12)
Borodin, In the Steppes of Central Asia, 1st horn (Nov 15)
Borodin, Overture from Prince Igor, 4th horn (Dec 09)
Borodin, Symphony No.2 in b, 1st horn (Nov 15), 2nd horn (Mar 09)
Brahms, Symphony No.2 in D, 2nd horn (Jun 11)
Brahms, Symphony No.3 in F, 1st horn (Mar 16), 4th horn (Nov 12)
Brahms, Tragic overture, 4th horn (Jun 13), 2nd horn (Jun 10)
Bruch, Violin concerto No.1 in g, 4th horn (soloist: Sophie Rosa, Nov 12)
Bruch, concerto for viola and clarinet, 1st horn (Mar 19)
Butterworth, Rhapsody, A Shropshire lad, 3rd horn (Mar 19)
Chaminade, Flute Concertino, 2nd horn (Feb 09)
Copland, Rodeo suite, 1st horn (Mar 16)
Debussy, Rhapsodie pour saxophone, 2nd horn (soloist: Ben James, Jun 11)
de Falla, "The Three Cornered Hat" dance suites, 3rd horn (Nov 16)
Delius, "La Calinda" from Koanga, 3rd horn (Jun 16)
Dukas, The Sorcerer's Apprentice, 1st horn (Nov 17)
Dvorák, Slavonic dances, Op.46, conductor (Nov 11), timpani (Apr 19)
Dvorák, Symphony No.8 in G, 1st horn (Nov 17, Jun 09)
Dvorák, Symphony No.9 in e "from the new world", 1st horn (Mar 16), 4th horn (Dec 09)
Ilan Eshkeri, Stardust suite, 4th horn (Nov 12)
Gershwin, An American in Paris, 3rd horn (Leeds Town Hall, Mar 13)
Gershwin, Cuban overture, 3rd horn (Leeds Town Hall, Mar 13)
Gershwin, Girl Crazy overture, 1st horn (Mar 16)
Grieg, In Autumn, 1st horn (Jun 18)
Grieg, Piano concerto in a, 3rd horn (soloist: ?, Jun 18), 2nd horn (soloist: Felix Tennie, May 18), 2nd horn (soloist: Caroline O'Brien, Nov 10), 3rd horn (soloist: ? May 09)
Grieg, Peer Gynt suite no.1, 3rd horn (Nov 17), timpani (Apr 19)
Haydn, Symphony No.26 in d, 2nd horn (Jun 09)
Haydn, Symphony No.104 in D, 1st horn (Mar 07), timpani (Apr 19)
Holst, The Planets Suite, 5th Horn (Dec 16), 1st horn (May 16; Mars, Venus, Jupiter), 2nd horn (Mar 11)
Trevor Jones, Dark Crystal suite, 4th horn (Nov 12)
Khachaturian, Adagio from "Spartacus", 1st horn (Nov 15)
Mahler, Symphony No.2 "Resurrection", 10th horn offstage (Mar 19)
Mendelssohn, Hebrides Overture, 1st horn (Mar 09), 1st/2nd horn dep (Oct 17)
Mendelssohn, Symphony No.3 in a "Scottish", bumper (Nov 17)
Mendelssohn, Symphony No.4 in A "Italian", 2nd horn (May 09)
Mendelssohn, Symphony No.5 in D "Reformation", 2nd horn (Nov 16)
Monti, Czárdás, conductor (soloist: Tenley Martin, Mar 12)
Mozart, Clarinet concerto in A, 2nd horn (soloist: ? Dec 10)
Mozart, Flute Concerto No.2 in D, 2nd horn (soloist: Jonty Slade, Jun 09)
Mozart, Overturn from "Don Giovanni", 1st horn (Nov 18)
Mozart, Piano Concerto No.23 in A, 1st horn (Feb 09)
Mozart, Symphony no.40 in g, 2nd horn (Dec 10)
Mussorgsky, Night on a bare mountain, 4th horn (Nov 12)
Mussorgsky (arr. Ravel), Pictures at an exhibition, 4th horn (Nov 12, Mar 10)
Prokofiev, Peter and the Wolf, percussion (May 11), 3rd horn (Apr 10), 2nd horn (Mar 10)
Rachmaninov, Capprice Bohemien, 1st horn (Nov 15)
Rachmaninov, Piano Concerto No.2 in c, 4th horn (Sage Gateshead, soloist: Patrick Zuk, Mar 10)
Rachmaninov, Symphon No.2 in e, bumper (Apr 18)
Ravel, Bolero, 4th horn (Nov 12), snare drum (?), 1st horn (Jun 18)
Ravel, La Tombeau de Couperin, 1st horn (Nov 15)
Ravel, Pavane pour une infante defunte, 1st horn (13?, May 18)
Rimsky-Korsakov, Capriccio Espagnol, 4th horn (Sage Gateshead, Mar 10)
Rimsky-Korsakov, Scheherazade, bumper (Mar 17), 4th horn (Sage Gateshead, Mar 10)
Rossini, Overture from "the Barber of Seville", 1st horn dep (Oct 17)
Saint-Saens, Cello Concerto in a, 2nd horn (soloist: ? Jun 10)
Saint-Saens, Symphony No.2 in a, 2nd horn (Mar 17)
Schubert, Symphony No.4 in c "tragic", 2nd horn (Nov 17)
Schubert, Symphony No.5 in Bb, 2nd horn (May 18)
Schubert, Symphony No.8 in b "unfinished", conductor (Mar 12), 1st horn (Mar 09, Mar 07), 2nd horn (Nov 18)
Schubert, Symphony No.9 in C "the great", 2nd horn (Jun 10)
Smetana, "Vltava" from Ma Vlast, 4th horn (Nov 18)
Sphor, Clarinet concerto No.1, 2nd horn (Mar 17)
Shostakovich, , 3rd horn (Mar 19)
Shostakovich, Symphony No.10 in e, 4th horn (Jun 13)
Sibelius, Finlandia, 2nd horn (Nov 10)
Sibelius, Symphony No.1 in e, 1st horn (Nov 18)
Sibelius, Symphony No.2 in D, 2nd horn (Jun 18, Nov 10), 3rd horn (Nov 18)
Smetana, Three dances from "The Bartered Bride", 1st horn (Nov 16)
J. Strauss Jr., Overture from "Die Fledermaus", 2nd horn (Dec 10)
J. Strauss Jr. Blue Danude Waltz, 2nd horn (Mar 15)
R. Strauss, Also sprach Zarathustra, 5th horn (Nov 11)
R. Strauss, Till Eulenspiegels lustige Streiche, 3rd horn (Nov 11)
Stravinsky, The Rite of Spring, 7th horn (Mar 17 x 2), 4th horn (Sept 09)
Stravinsky, Symphony of Psalms, 2nd horn (Feb 09)
Tchaikovsky, Nutcracker suite, 1st/4th horn (Nov 10)
Tchaikovsky, Piano Concerto No.1, 2nd horn (Nov 18)
Tchaikovsky, Romeo and Juliet Fantasy Overture, 4th horn (Jun 09)
Tchaikovsky, Swan Lake suite, 3rd horn (Apr 10), 1st horn (Nov 16)
Tchaikovsky, Symphony No.6 in e "pathetique", 1st horn (Nov 19), 4th horn (Mar 10)
Walton, Four Dances from the Façade, 1st horn (Jun 09)
Wagner, Liebestod (from Tristan und Isolde), 4th horn (Jun 13)
Wagner, Siegfried Funeral March, timpani (Mar 17)
Wagner, Wesendonck Lieder, 4th horn (Sept 09)
Weber, Clarinet concertino, conductor (soloist: Andres Aranda, Mar 12)
Weber, Euryanthe overture, 4th horn (Nov 12)
Vaughan Williams, Overture to "The Wasps", 1st horn (Jun 16)
Vaughan Williams, The lark ascending, 4th horn (soloist: Sophie Rosa, Nov 12)
Vaughan Williams, Symphony no.6 in e, 2nd horn (Apr 13)
Wind band music
Jerry Bock, Symphonic Dances from "Fiddler on the Roof", 1st horn (Apr 15)
Bernstein, Overture to Candide, 2nd horn (Mar 10)
Bernstein, Slava!, 2nd horn (Mar 11)
Bernstein, Selections from West Side Story (arr. W. J. Duthoit), conductor (Dec 16)
Dukas, Sorcerer's Apprentice, 1st horn (Dec 08)
Martin Ellerby, Paris Sketches, 3rd horn (Nov 10)
Rossano Galante, Cry of the Last Unicorn, 1st horn (Dec 14)
Gershwin, An American in Paris, conductor (Dec 16)
Grainger, Lincolnshire Posy, 3rd horn (Mar 17), 2nd horn (Mar 11)
Grainger, Shepherd's Hay, 1st horn (Apr 15)
Samuel Hazo, Ride, 4th horn (Mar 13)
Samuel Hazo, Rush, 3rd horn (Nov 10)
Nigel Hess, New York, 3rd horn (Nov 10)
Nigel Hess, Stephenson's Rocket, 3rd horn (Jun 16), 1st horn (Dec 15)
Holst, Suite No.1 in Eb, 3rd horn (Nov 09)
Holst, Suite No.2 in F, 1st horn (Mar 09)
Robert E. Jager, Third Suite, 1st horn (Dec 14)
Ernesto Lecuona, Malaguena (arr. Sammy Nestico), 3rd horn (Jun 16)
Frank Loesser, the Ugly Duckling, 1st horn (arr. Alan Fernie, Mar 15)
Johan de Meij, Symphony No.1 "Lord of the Rings", 3rd horn (May 12)
Alfred Reed, Armenian Dances (part I), 1st horn (Nov 11)
Alfred Reed, Armenian Dances (Part II), 4th horn (May 09)
Alfred Reed, El Camino Real, conductor (Dec 16)
Shostakovich, Festive Overture, 1st horn (Nov 15)
Philip Sparke, Carnival, 1st horn (Mar 09)
Philip Sparke, Jubilee Overture, 3rd horn (Mar 17)
Philip Sparke, Spirits of Sequoia, tenor saxophone (Mar 05)
Philip Sparke, Theatre Music, 2nd horn (Nov 14)
Philip Sparke, Year of the Dragon, 1st horn (Nov 11)
Duncan Stubbs, Three Carols from Olde England, 3rd horn (Dec 15)
Frank Ticheli, Vesuvius, 3rd horn (Jun 16)
Johnnie Vinson, Fantasy Sketches (Wizards, Elves and Talking Animals), 3rd horn (Dec 15)
Vaughan Williams, English Folk Song Suite, 1st horn (Mar 09)
Henry Wood, Fantasia on British Sea Songs, 3rd horn (Jun 16), 4th horn (Dec 08)
Guy Woolfenden, Gallimaufry, conductor (Dec 16)
Satoshi Yagisawa, Fanfare - Flight to the Unknown World, 3rd horn (Dec 15)
Satoshi Yagisawa, Fanfare - The Benefaction From Sky and Mother Earth, 3rd horn (Jun 16)
Hans Zimmer, Pirates of the Caribbean: The Curse of the Black Pearl, all horn parts, conductor, tuba, bass clarinet, percussion at one point or another...
Hans Zimmer, Pirates of the Caribbean: Dead Man's Chest, 1st horn (Apr 15)
Chamber and solo works
Jerry Bock, Selections from Fiddler on the Roof", horn (wind quintet, Mar 15)
Danzi, Wind Quintet in F, Op.68 No.2, horn (wind quintet, ? 08)
Mozart, Clarinet Concerto, piano (2nd and 3rd movt, soloist: Dan Kolb, May(?) 09)
Mozart, Overture from the Magic Flute, horn (wind quintet, Dec 08)
Mozart, Piano and Wind Quintet, piano (Edinburgh St. Giles, Jun 08)
Mozart, Serenade No.10 for winds in Bb ('Gran Partita'), 3rd horn (May 16)
Lowell Shaw, Fripperies, 4th horn (Mar 15, #4, #15)
F. Strauss, Nocturno, Op.7, horn (May 15)
Weber, Clarinet Concertino, piano (soloist: Dan Kolb, May(?) 09)
Weber, Variations on a Theme from Silvana, piano (soloist: Dan Kolb, May(?) 09)
---
OUP horn section quartet, OUP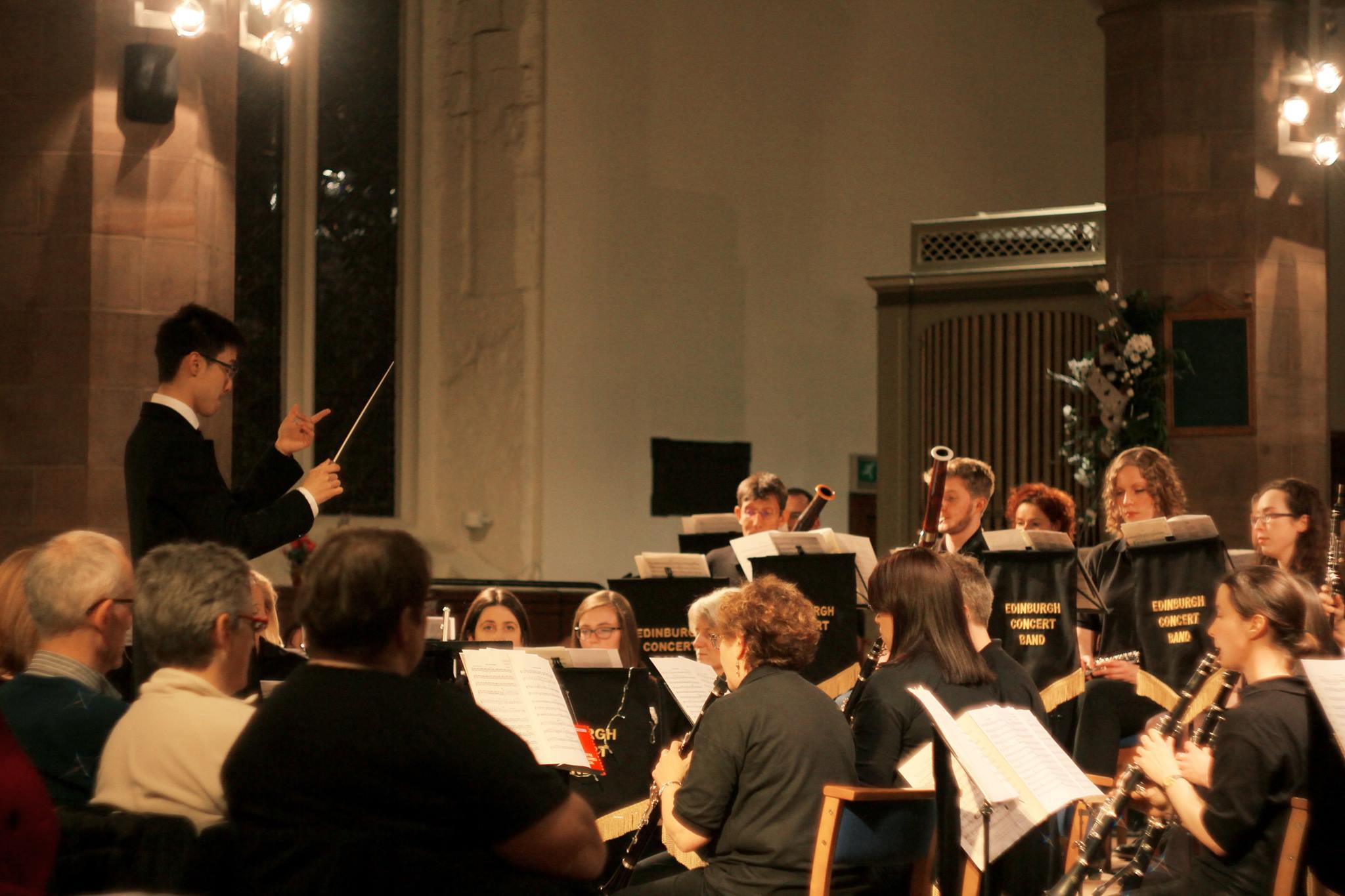 Edinburgh Concert Band at Greyfriar's Kirk, Edinburgh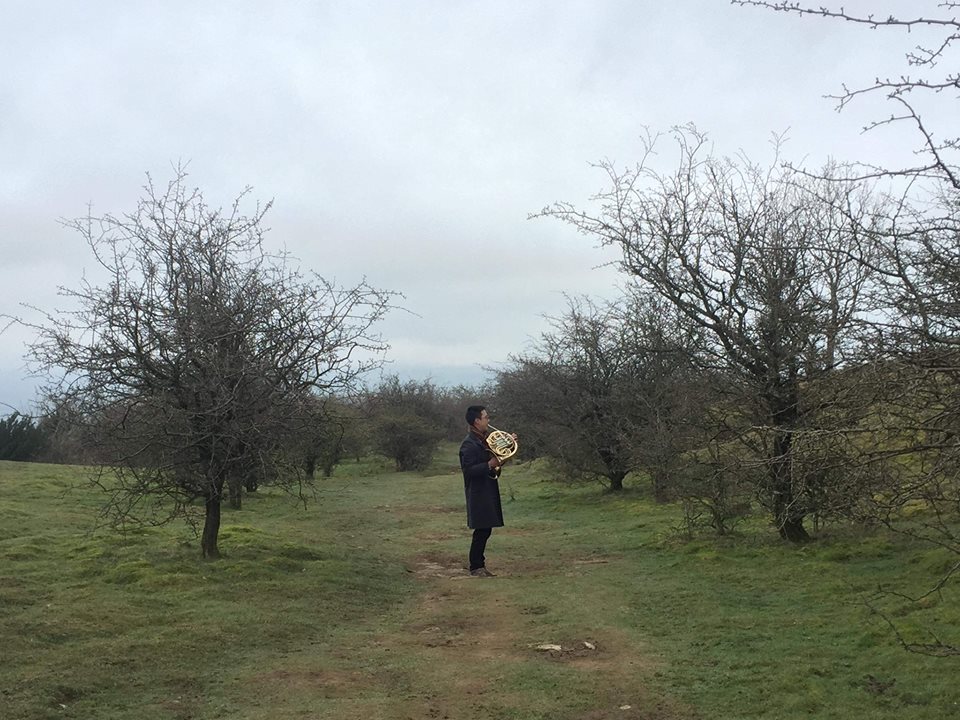 Scout Scar, Lake District